ValloneLAB Structural Biology Laboratory
We created the logo and a fully responsive website for the laboratory of Professor Vallone of the Department of Biochemistry at Sapienza University of Rome.
The need of the project is the realization of a communication tool that illustrates the working environment of the laboratory, research lines, grants and gives the possibility to publish news in order to provide users interested in the activities of the laboratory with broad and comprehensive information on scientific issues and events.
Task
The Vallone Lab at La Sapienza University of Rome works in structural biology to understand the structure-function relationship of proteins and protein complexes. The Vallone Lab takes an integrated structural biology approach using X-ray crystallography, X-ray scattering, and cryoelectron microscopy to obtain comprehensive and dynamic images of proteins in action.
Client

Sapienza Università di Roma

Workings

Logo, Website

Period

2020 to date

Tags
Go to Website
A Sans Serif Font emphasizes the scientific character of the modern laboratory. LAB in bold to focus on the facility's goals.
Followed by the alpha helix typical of the proteins that are the focus of Vallone Lab's research.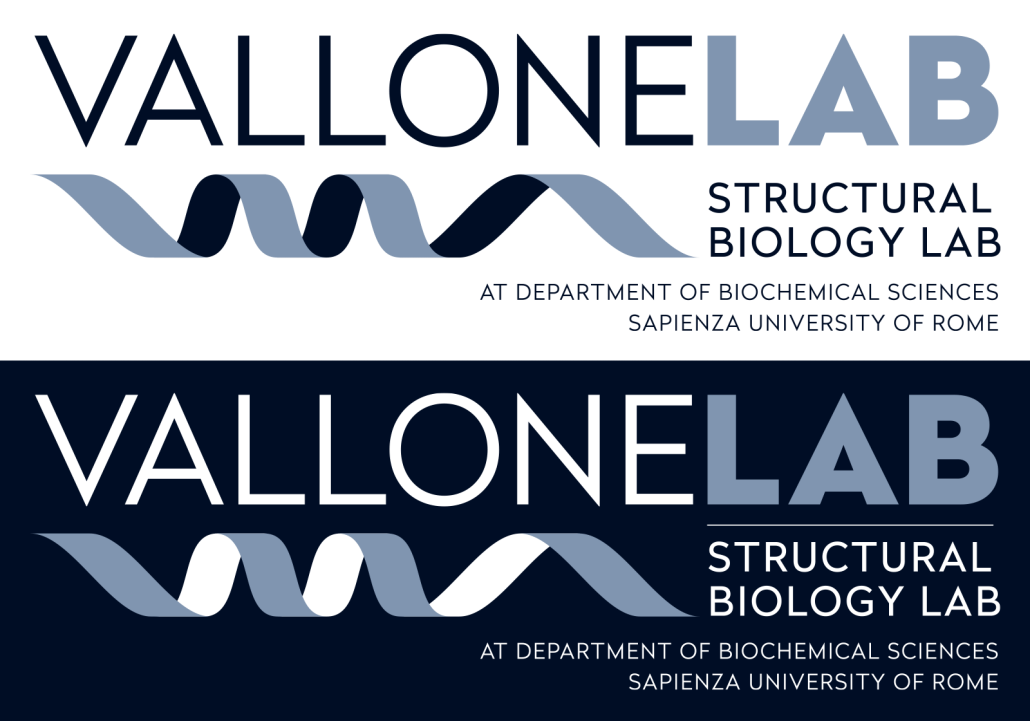 The fully responsive website is divided into four mega areas that are easily accessible from the homepage, which is built around four large buttons: Research (research lines, grants, links), People (lab members, external collaborators, former members), News (divided into scientific news and events), and Contacts.
The predominant color of this website with minimal graphics is blue, a symbol of harmony and balance as well as calmness, to give confidence to the visitor and invite them to continue browsing. Slow, harmonious clips serve as a background to the site's content.
The various fields of research are accompanied by fact sheets detailing the studies being conducted as well as providing links to the laboratory's main publications.